ournalist Jerome Corsi appeared on the Alex Jones Show today to discuss in depth his astounding new investigation that implicates both Alberto Gonzales and U.S. Attorney Johnny Sutton in the cover-up of a pedophilia scandal involving the Texas Youth Commission.
"Attorney General Alberto Gonzales and U.S. Attorney Johnny Sutton, both already under siege for other matters, are now being accused of failing to prosecute officers of the Texas Youth Commission after a Texas Ranger investigation documented that guards and administrators were sexually abusing the institution's minor boy inmates," writes Corsi in a report for World Net Daily .

"Among the charges in the Texas Ranger report were that administrators would rouse boys from their sleep for the purpose of conducting all-night sex parties."
A 2005 investigation led by Texas Ranger Brian Burzynski revealed that systematic abuse of minors was commonplace at West Texas State School in Pyote, Texas. Burzynski presented the findings of the investigation to both Gonzales and Sutton but was rebuffed, and even received a letter from Sutton's office that attempted to legitimize the sexual abuse of children, claiming that "under 18 U.S.C. Section 242," it would have to be demonstrated "that the boys subjected to sexual abuse sustained "bodily injury," states the letter from Bill Baumann, assistant U.S. attorney in Sutton's office.
Incredulously, Baumann's letter goes on to make the case that the minors consented to and even enjoyed the acts of pedophilia, therefore no further action was necessary.

U.S. Attorney General Johnny Sutton.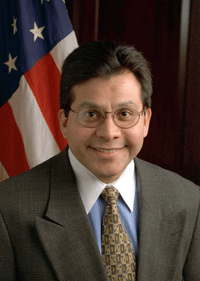 In September 2005, the U.S. Department of Justice Civil Rights Division also refused to follow up with a prosecution.
According to Corsi, officials implicated in the scandal were hired despite their known criminal backgrounds and were also retained even after it was discovered that they were using state computers to regularly visit pornography websites.
"It basically sounds as if you wouldn't get hired in one of these facilities unless you were a pedophile," Corsi told the Alex Jones Show.
"You've got a culture of pedophilia that is at the core of the Texas Youth Commission, and what that means is you won't get hired or you won't stay as an employee unless you're willing to participate in the boy rape that's going on or keep quiet about it."
Corsi says he has further developments to report tomorrow that confirm the scandal is "Now known to be widespread, all the offices of the Texas Youth Commission throughout the state are involved and employees from the top to the bottom are all involved."
Click here to listen to Corsi's interview on The Alex Jones Show.

Paul Joseph Watson