Update: As of today, February 18, 2008, the tax returns of approximately 200 clubs can be found by searching for "Royal Order of Jesters" here. Additionally, a list of Jesters contacts is available at the end of this article.
Update: As of today, February 17, 2008, the International Royal Order of Jesters has failed to comply with a December 20, 2007 request for their exemption application AKA Form 1023. Additionally, IRS documents indicate that the International Royal Order of Jesters may not be a legitimate charity because their advance ruling period expired December 31, 2007.
The Royal Order of Jesters is made up of 24,000 invited Shrine leaders, including current Imperial Potentate, Dr. Bernard Lemieux, MD. Other members of the current Imperial Divan claiming Jesters membership include Alan Madsen, Gene Bracewell, Jack Jones and Jerry Gantt. Their mascot is a naked little guy named "Billiken" who, when shown animated online, appears to have his, uh, thingy popping up and down as he blinks.
So, the Shriners "have fun while helping kids" and the Jesters just have a good time "spreading the gospel of mirth."
Good times usually mean orgies and the Shriners and Jesters are no strangers to sex scandals.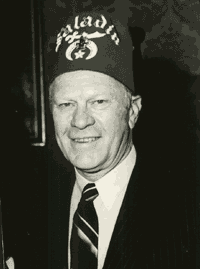 President Ford, a Jester
Back in January, 2001, Canadian media reported how a Shriner "gentlemen's dinner" turned lewd when a naked woman began performing lap dances, another laid nude on a table as a man slid a beer bottle in her and then performed oral sex on her. After police investigated, the Shriners unit was disbanded.
The International Royal Order of Jesters oversees nearly 200 clubs. Their members include United States Presidents, including Truman and Ford, congressmen, governors, state representatives, federal judges, US district attorneys and secretaries of state. Their ranks are swollen with doctors, lawyers, sheriffs, Masonic Grand Masters and Shrine leaders.
So far, the Jesters have managed to fly under the radar without anyone asking too many questions.
Until now.
The first question is:
Have the Jesters hustled the feds by convincing them that raising millions for partying is a legitimate exempt purpose because the IRS has had no problem classifying them as both a nonprofit fraternity and charity?
Their 2005 tax returns AKA the 990s show that the Jesters fraternal brought in over $1.3 million dollars with assets totaling over $1.8 million dollars. That same year, the Jesters charitable brought in over $420,000 with assets totaling $835,000, for a combined worth of about $2.65 million dollars. And, in that same year, charitable contributions went toward building their new $1.2 million 5,000 square foot HQ/museum in Indianapolis, Indiana.
This also means that the members can claim their dues as charitable contributions on their tax returns.
In 2006, Jesters executive director Alex Rogers, who is also an attorney and past potentate, submitted an application for property tax exemption to the Marion County Assessor based on the group's claim of being a charity, claiming their new office building included a museum.
The Jesters current website also claims their new headquarters is a 5,000 square foot museum. The site also states, for the first time, that the museum now includes memorabilia dedicated to the works of William Shakespeare. This Shakespeare connection is new, as it has not been previouisly mentioned anywhere in the groups' historical or non profit documentation, including tax returns. If this is truly the case, it must be reported to the IRS as a change in charitable purpose.
The application for property exemption was denied because tax authorities were not convinced that the Jesters qualified as a charity, based on the museum claims, under Indiana law.
Rogers appealed the decision and convinced the Indiana Tax Assessment Board of Appeals that the Jesters are an appendant body of Masonry. Both parties entered into a Settlement Agreement in January, 2007 that stipulated a 100% fraternal tax exemption for the year 2005, otherwise the Jesters would have had to cough up about $12,000 in property taxes.
When questioned about Jesters activities, Rogers deferred inquiries to "Royal Director" Gene Best and Texas attorney Ron Pruitt, both of whom have not returned phone calls or responded to questions.
Pruitt appears to be responsible for incorporating the International Royal Order of Jesters in Texas in 2003 and for obtaining the International Royal Order of Jesters 501c3 charitable classification from the IRS in 2004. Pruitt listed the same address he's reported to the Texas Bar Association as the Jesters headquarters address on the group's application for IRS non profit status.
Coincidentally, both Rogers and Pruitt appear to be practicing law out of Jesters' headquarters. Both have listed their business addresses and phone numbers with the Indiana Supreme Court Roll of Attorneys and the Texas Bar Association as Jesters' headquarters in Indiana and Texas.
Nonprofit groups are prohibited from providing personal benefit to anyone.
Pruitt was fax-asked why he, as Chairman of the Jesters' Jurisprudence and Laws Committee, was included on a letter sent by "Royal Stage Manager" Dennis Schueler to Jester Frank Baillie, informing him that the Jesters had "directed the abolition of all Jester-related bulletin boards and internet sites. The primary reason behind such action was the desire of the Board to minimize the extent possible, our public exposure or its access to Jesters information." Pruitt has failed to respond and explain why a non profit group would want all bulletin boards and internet sites taken offline.
When questioned about the letter, Scheuler denied all knowledge and abruptly hung up. When given another opportunity to answer the questions via email, Schueler replied:
"I do not believe I have any information that would be of help to you. Please stop harassing me!"
Since Jesters functions have always been listed on the Imperial Council's annual session agenda, questions about the group were sent to Shriners corporate communications director, Alicia Aargiz-Lyons, who, like the others, failed to respond. Oddly, the 2008 Imperial Council tentative schedule does not list Jesters functions.
So, the second question is:
Why would a nonprofit group with a naked thingy-popping mascot refuse to answer questions and demand such secrecy?
Is the answer in a 2005 complaint that was sent to and investigated by the Grand Lodge of Texas?
It was written by a long time Shriner/Jester who claimed the anonymous moniker "Sam Houston" because "What I am about to portray to you could endanger my life and the life of my family." It alleged that "During the initiation of new Jesters I was offered the opportunity by another fellow brother to sleep with a whore, even though I had a wife and kids waiting for me to come home."
The complaint also alleged that:
•Prostitutes were available for Jesters to have their way with
•Brothers had sex in front of other brothers
•Brothers held oral sex competitions
•Potentates, Chaplains, Attorneys, Judges and Past Masters were Jesters
•Sex, illegal gambling and alcohol were the preferred order of business
Not that messing around, holding oral sex competitions, getting snot slinging drunk and gambling your butt off is a bad thing, but to allegedly do so as a nonprofit group?
The complaint continued that "the Jesters pride themselves in having control of all leadership positions at all of the Shrine Temples in the U.S. and Canada as well as the Imperial Shrine leadership. Also, they have risen through the ranks in every body of Masonry including the Scottish Rite, York Rite, Rosicrucians, Red Cross of Constantine, Eastern Star and the Demolay Organizations."
The complaint asked the Grand Master of the Grand Lodge of Texas to investigate the Jesters for:
•Actions which disgrace Masonry
•Indulging in the intemperate use of intoxicating liquor
•Gambling
•Profane swearing
•Willfully abandoning their families
•Cohabiting with lewd women
The investigation yielded no prosecutions.
No wonder the Shriners kept quiet as members who have been accused of violating Shrine law have been "tried," kicked out or sued.
Or maybe they were scared of losing their eyeballs, having their feet sliced open and getting the plague?
The Shriners Oath makes candidates "promise, swear and vow that they will never reveal any secret part or portion whatsoever of the ceremonies" and if they do, they will "incur the fearful penalty of having my eyeballs pierced to the center with a three-edged blade, my feet flayed and I be forced to walk the hot sands upon the sterile shores of the Red Sea until the flaming sun shall strike me with livid plague."
Ouch.
No wonder their membership has dropped by 60% the past twenty five years.
Kind of like thinking you had $100 in your wallet and finding only $40.
So, is any of the complaint true?
"Oh, yeah, it's all true," said John Doe, a former Jester who also fears for his life, though he and Sam Houston would be protected as whistleblowers under the post-Enron Sarbanes-Oxley Act.
"The Jesters sole purpose is to party and spend lots of money," Doe explained. "Some of these clubs are sitting on hundreds of thousands of dollars. Why should an organization like this be granted tax exempt status?"
"Many state Grand Masters' of Masonry are Jesters," he continued. "So when the Jesters are investigated for lewd, explicit sexual behavior, they are investigated by one of their own. There are lavish parties where the wives can attend with some very nice gift given to each Jester's wife or Lady attending. The 'Stag' parties are the 'Dark' side of Jesters. Most wives know no detail with respect to the 'Stag' parties."
So, is any of this against the law?
Could the Jesters be committing state and federal tax fraud if International and the individual clubs continue to file inaccurate and incomplete tax returns? The IRS might also want to see why Rogers and Pruitt appear to be practicing law out of Jesters' HQ as well as investigate the Jester's charitable status after Indiana tax authorities initially denied their property tax exemption application. If the IRS suspended the Jesters charitable status, those who took potentially fraudulent deductions could also be investigated for tax fraud.
Have the Jesters filed incomplete or inaccurate tax returns? And is the IRS serious about the disclosure of nonprofit executive compensation?
The 990 gives nonprofit groups ample opportunity to disclose such compensation in a "fill in the blanks" kind of way. At issue are the Jesters' fraternal 2005, 2004 and 2003 tax returns that report "Directors Expense" as $31,865, $24,778 and $31,116, respectively. Whether this was paid to the executive director Alex Rogers, or another director, the Jesters failed to report this compensation in at least three other "fill in the blanks" sections. The Jesters also failed to report that both the fraternity and charity share the same building, services, board members and employees.
The clubs' tax returns aren't much better. The Royal Order of Jesters, Court 113 in Summerville, SC inaccurately told the IRS that their exempt purpose is "Helping Crippled Children." Other courts fail to disclose their organization type and as well as things like program accomplishments and program service expenses so no one really knows how they justify their tax exempt status nor how much it costs to do so.
Jesters International and all clubs, as well as the Masons and Shriners, have also hidden their affiliations by failing to tell the feds that they are "related through common membership, governing bodies, etc, to any other exempt or non exempt organizations."
In other words, the IRS wants a complete picture of how a nonprofit group operates and who they operate with. The Masons, Shriners and Jesters seem to want to keep their relationships secret.
The Masons use the symbolism of masonry to teach moral and ethical lessons of the principles of "Brotherly Love, Relief, and Truth." Maybe the Jesters are seen as the way for Masons AKA Shriners to get true relief through brotherly love as they get drunk and allegedly mess around on their wives?
So, if you read that some Shriner is bragging about being a member of the Royal Order of Jesters, maybe it's because he just wants to put the "potent" back into Potentate.
This list of Jesters contacts is based on nonprofit/tax exempt information that is of the online public record made available by the federal government as compiled by www.taxexemptworld.com:
WILLIAM DEMLADE 109 STENNIS AVE Ocean Springs, MS 39564-5115
GARY D MEYERS 11255 HOLLY RDG Smithfield, VA 23430-5729
TOM W HUNTINGTON 1126 E 3RD ST Berwick, PA 18603-4002
JOHN W SWAINSON 1127 W SUNNY CR CIR Spokane, WA 99224-0000
DAVID W MCCLENAHAN 113 HARVEY PKWY Avon Lake, OH 44012-1829
GEORGE A HALL 114 LAURETTA DR Billings, MT 59101-6638
MARK T RUFFIN III 11422 WOODCOCK RD Glen Allen, VA 23059-0000
GALE F BENNINGTON 12073 LAKE PLACID DR Saint Louis, MO 63146-5110
ROLAND W WILLIAMS TREAS 1216 DEER RUN RD Dayton, OH 45459-4901
JACK WINFRED PARKER 1216 OLD RD Chapin, SC 29036-8510
JOHN K HALVORSON 1230 MALLARD DR Bradley, IL 60915-1324
GREG COOK 124 S MAIN ST Arab, AL 35016-1351
RONALD F HURST 12655 FALCON DR Brookfield, WI 53005-6593
HARVEY VICENT IMPRESARIO 12979 HWY 110 N Tyler, TX 75704-2435
HARVEY M LEVIN 133 VALLEY RUN DR Cherry Hill, NJ 08002-3046
ALBERT W HEAD IMPRESARIO 140 DUNNING KEEP Covington, GA 30016-1742
FREDERICK A THAGER IV 14113 CEDARWOOD DR SW Cumberland, MD 21502-5736
GEORGE H KARNES 143 YELLOW BREECHES DR Camp Hill, PA 17011-8342
WILLIAM E BARBER 1430 CLEARPOINT DR Hixson, TN 37343-4405
TED REED 1431 FLINTRIDGE RD Florence, KY 41042-1107
ARTHUR MACDONALD 15 NEIL LN North Scituate, RI 02857-1221
MICHAEL RODGERS 1515 E TROPICANA Las Vegas, NV 89119-6517
R T PETERS JR 1538 W RIDGE ST APT 10 Marquette, MI 49855-3134
S MICHAEL BRAIN 1540 MIDLAND CT NE Cedar Rapids, IA 52402-1922
WILLIAM R CLARK JR 1550 FINANCIAL ST 666 WALNUT ST Des Moines, IA 50309-0000
JERRY WARD 1601 BUSINESS CENTER CT STE 102 Louisville, KY 40299-2312
JAMES R FULLER 1914 HOWARD DR Monroe, LA 71201-4548
OW FINLEY 1915 CANYON DR Coeur D Alene, ID 83815-9007
RONALD V WOODHEAD 1938 SHERIDAN RD Salt Lake City, UT 84108-2233
TONY SHAKKOUR 194 MACDONALD DR Wayne, NJ 07470-3846
DENNIS D FEYH 1967 BIG RUN RD E Grove City, OH 43123-3706
GERALD C VIDALLIER 200 SAINT FRANCIS PKWY Abbeville, LA 70510-2198
DENNIS V SIEWERT 200 WILLIAM ST UNIT 201 De Pere, WI 54115-2565
BOBBY B SIMMONS 203 WILLIAMS DR Bonaire, GA 31005-3826
JOHN PECKHAM 205 E 29TH ST Sioux Falls, SD 57105-3918
SAM G KAPOURALES 215 LOGAN ST STE 10 Williamson, WV 25661-3600
KEITH ADAMS 215 N 56TH AVE APT 28 Yakima, WA 98908-5100
DAVID R SHOPE 2207 OKLAHOMA AVE Davenport, IA 52804-4622
J CRAIG COWGILL 2211 NORFOLK ST STE 1190 Houston, TX 77098-4054
LARRY D WAGGONER 233 SEATON DR Russell, KY 41169-1416
LOWELL C HOLMGREN 2505 E ST FRANCIS ST Rapid City, SD 57703-5928
CHARLES CATAPANO 2585 DAVENPORT PL Bellmore, NY 11710-2601
JACK B RENDALL 2610 HALLE PKWY Collierville, TN 38017-8888
JOHN C WILLIAMS TREASURER 2665 WEIR RD Aston, PA 19014-2617
DAVID L BARNES 2701 MCCLELLAN ST Monroe, LA 71201-3074
KENNETH HOLMAN KELLEY 2850 SUNSET RD Melbourne, FL 32904-8815
DEREK E VAN HOUTEN 2867 CHILI AVE Rochester, NY 14624-4833
JERRY ADAMS 28730 SW BAKER RD Sherwood, OR 97140-8410
RONALD B PRUITT 2950 NORTH LOOP W STE 270 Houston, TX 77092-8800
LAWRENCE E DAVIES 3 JULIA ST Hollidaysburg, PA 16648-9210
WILLIAM H MERRITT TREASURER 3009 MEADOW FOREST DR Jackson, MS 39212-4034
CHARLES A MCVEY 3065 ROWLAND RD Reno, NV 89509-2232
DENNIS J BLAIR 309 FONTAINE DR Thomasville, GA 31792-4154
RICHARD B SMITH 312 ORCHARD DR Lake Charles, LA 70605-4446
N ROY ANDERSON 3123 BRIARWOOD BLVD Grand Island, NE 68801-7224
ROBERT E FRITZSCHE 3167 DEWALT DR Akron, OH 44312-5613
CLAUDE A AKRIDGE 3286 S EMPORIA CT Denver, CO 80231-4738
CD SMITH 3313 LYNETTE DR Amarillo, TX 79109-4509
J T HAMILTON TREASURER 3379 CALLE VISTA DR Medford, OR 97504-9279
L BLAINE CHARAK 3414 DUPONT AVE Kensington, MD 20895-2601
WILLIAM L STEWART IMPRESARIO 352 KIMMSWICK RD Charlotte, NC 28214-1248
KARL J KOCH 36 MERELINE AVE Albany, NY 12209-1426
G FRED SLANEY 3617 WYNGATE LN Birmingham, AL 35242-4224
JERRY E HOSLER 3723 N BIGELOW ST Peoria, IL 61614-7362
ROBERT A LEE 3776 HIGHWAY 154 Elm Grove, LA 71051-8697
WILLIAM NICHOLSON393 WOODCREST DR Kingsport, TN 37663-2327
MURRAY FALK 4010 NE 397TH CIR La Center, WA 98629-4623
WILLIAM GASTON GAINER IMPRESARIO 402 N HOWARD AVE Tampa, FL 33606-1511
JOHN B KAYS 404 CIRCLE DR Cut Bank, MT 59427-3621
PAUL E FOSTER 41 WILDWOOD AVE Fulton, NY 13069-6900
RICHARD W CRABB 410 CHAUTAUQUA BLVD Erie, PA 16511-1113
JOHN TUNNELL 4102 RIVERCREST DR Wichita Falls, TX 76309-2804
LARRY D PRESSMAN 4115 SW EAGLE POINT RD Topeka, KS 66610-1569
JAMES C OSWALT 413 HOLLAND RD Benton, KY 42025-5934
THOMAS E GARNER 413 TOMLINSON AVE Glen Dale, WV 26038-1519
WILLIAM R BOWERS 4154 ELIZABETH CT Cypress, CA 90630-4119
SAM GRASSMICK 418 W 6TH ST Pueblo, CO 81003-3107
RYAN LIKENESS 41896 120TH ST Langford, SD 57454-5802
PETER K STONE 42 OLD MILL RD Leominster, MA 01453-5218
BILL ESRY RIDGE BK & TRUST 4200 LITTLE BLUE PKWY Independence, MO 64057-8306
WAYNE W GRINDLE 4216 HIGH RIDGE RD Haymarket, VA 20169-2411
RON D HINDS 4231 GREENBRIAR DR Nixa, MO 65714-8132
LEROY R HOCKING 4236 PRO AM AVE E Bradenton, FL 34203-3401
DAVID KROGH 440 RIVERS EDGE ESTATES Dakota City, NE 68731-0000
WILLIAM LEON MOUNNING 4409 BLUEFIELD DR Corpus Christi, TX 78413-3142
KENNETH L SHORT 444 N EL CAMINO REAL SPC 96 Encinitas, CA 92024-1313
JONATHAN W HIGGINS 4524 N MANILA AVE Fresno, CA 93727-7253
RICHARD E LYNN 4821 SW 188TH AVE Fort Lauderdale, FL 33332-1321
DONALD L GARLOCK 4832 BROOKWOOD DR Roanoke, VA 24018-2840
JIM KONDRASUK 4930 ARROWHEAD DR Madison, WI 53716-2901
CHRISTOPHER S MASON 4951 CARVER AVE Feasterville Trevose, PA 19053-6251
JOHN J HADLEY 500 5TH ST Marietta, OH 45750-1978
DON H ROACH 5002 MOCKINGBIRD LN Saint Joseph, MO 64506-3329
ROBERT E MATHERS5045 PRINCE RD Lincoln, NE 68516-3126
JIMMY R HUNT 519 WOODLAKE DR Sheyenne, ND 58374-9616
STEPHEN T RYE SR 5203 HARVEST CIR Austin, TX 78745-2230
STUART A GRESHAM IMPRESARIO 54 ANDOVER DR Springfield, IL 62704-5431
WALTER H PATCH 5615 LAURA DAWN AVE Cheyenne, WY 82009-3750
RICHARD C PERRY 57 SALMON PT RD Sebago, ME 04029-0000
DEAN O TAYLOR 5801 BROADWAY EXT FL 500 Oklahoma City, OK 73118-7486
RODNEY WALTMAN 5904 TWIN BRANCH DR E Satsuma, AL 36572-2044
MARK MANLOVE 5980 CARDINET DR Clayton, CA 94517-1134
RICHARD B SHEETS 607 RIBAUT RD Fort Pierce, FL 34947-6132
JAMES H JONANSON 6100 219TH ST SW STE 390 Mountlake Terrace, WA 98043-6234
RONALD SWAINSON 614 SAN DIEGO AVE Daly City, CA 94014-1959
WALLACE E FIZER IMPRESARIO 618 TATESWOOD DR Lexington, KY 40502-2858
HARVEY JOHNSON IMPRESARIO 6200 E 105TH ST N Wagoner, OK 74467-7948
JEFFREY P JOHNSON6252 MOON RD Columbus, GA 31909-3841
LARRY MESSERLI 6550 YORK AVE S STE 517 Minneapolis, MN 55435-2336
LARRY HARRIS 6744 GARMIRE RD Meridian, CA 95957-9504
GARY JOSLYN 6957 RED FOREST LN Nampa, ID 83686-5376
WALLACE L MCLENDON 7012 SPENCER RD Tallahassee, FL 32312-3548
DONALD G MARSH 71 SHORE RD Gilford, NH 03249-6648
EDGAR C PROUTY JR728 MILO RD Sebec, ME 04481-3241
JAMES W KOCOT JR 76 BLUE RIDGE DR Somers, CT 06071-1027
GERALD C MASON 763 DANBY PAWLET RD Pawlet, VT 05761-9439
JOHN L GREGGERSON 7700 ALABAMA ST STE A El Paso, TX 79904-3161
MICHAEL R MCFARLIN7724 PINE CIR Omaha, NE 68124-1629
JIM DALE SWEARENGIN 7812 SAVAGE DR Kansas City, KS 66109-1158
JOHN REYNOLDS 8 REICHELT TER Ansonia, CT 06401-1116
THOMAS C NEIGHBORS 8 RIVERBEND CT Sheridan, WY 82801-9026
MABRY CANN WILLIAMS IMPRESARIO 836 TARA TRL Columbia, SC 29210-4929
JOAN TOOMEY SECRETARY 8665 ALVERNO AVE Inver Grove Heights, MN 55077-3529
JOSEPH J VEZZOSO JR 900 S MEADOW RD Evansville, IN 47714-0664
RICHARD B HUSTON94-439 PAPOLOHIWA ST Mililani, HI 96789-2728
DONALD P LINK IMPRESARIO 9436 LINDA DR Davison, MI 48423-1797
JAMES V PETERSON PO BOX 418 Monticello, AR 71657-0418
ARNOLD L BROWN IMPRESARIOPO BOX 490 New Bern, NC 28563-0490
WILLIAM A WEIR IMPRESARIO PO BOX 553 Clinton, SC 29325-0553
DENNIS G WEST PO BOX 608576 Orlando, FL 32860-8576
LONNIE M LUCE PO BOX 61997 San Angelo, TX 76906-1997
RICHARD D JAMES PO BOX 663 Meridian, MS 39302-0663
R WILLIAM STOLL PO BOX 686 South Bend, IN 46624-0686
JOSEPH S MONAGHAN JR TREASURER PO BOX 7603 Metairie, LA 70010-7603
CHARLEY SMITH PO BOX 92066 Nashville, TN 37209-8066
RONALD W ANDERSON 656 TROON DR SE Rio Rancho, NM 87124-2172
GUY T ALLEN 4699 COACHMAKER DR Bloomfield Hills, MI 48302-2228
DANIEL L OCHOCKI 6381 S ALLEN RD Foxboro, WI 54836-9466
DAVID B ROTT PO BOX 390 Fargo, ND 58107-0390
VERNON ELLIS 417 VERNA TRL N Fort Worth, TX 76108-4302
WALTER J BREAUX JR305 DRYDEN PL Port Arthur, TX 77642-8338
CHRIS MENEFEE JR 741 C NW 5TH AVE Fort Lauderdale, FL 33311-0000
ROBERT E ENO 15 FOX HILL RD Wethersfield, CT 06109-4127
LOUIS H JUERS 58 SCHOFIELD ST Bronx, NY 10464-1530
DAVID LEIPHEIUNER PO BOX 4513 Butte, MT 59702-4513
REGINALD D LAMB 15 CHEROKEE AVE Essex Junction, VT 05452-3555
CHARLES MILLER 100 CHALCOTT PL Summerville, SC 29485-5612
JOSEPH J VEDRA 12200 NEOWASH RD Whitehouse, OH 43571-9715
GORDON E HOYT 1255 HARBOR LAKE AVE Brea, CA 92821-2860
ROBERT H MACMARTIN IMPRESARIO 4 WESTLAND AVE Queensbury, NY 12804-1217
VICTOR GHAREEB 4432 CLOVERLEAF DR SE Grand Rapids, MI 49546-6221
ALEX ROGERS 5725 LIBERTY CROSSING DR Indianapolis, IN 46254-1114
LOUIS H JUERS IMPRESARIO 58 SCHOFIELD ST Bronx, NY 10464-1530
RONALD M ELLIOTT 5833 KILMER LN Indianapolis, IN 46250-1822
BILL W STEVENSON TREAS 7820 JENNIE ST Wichita, KS 67212-3536
G JAMES WEHRHEIM 805 MCKNIGHT PARK DR Pittsburgh, PA 15237-6504
SAMUEL D VAUGHAN JR PO BOX 11677 Durham, NC 27703-0677
MIKE JOHNS PO BOX 850 Deer Lodge, MT 59722-0850
MORRIS LANI BROUSSARD 503 ROSE DHU RD Savannah, GA 31419-3321
LEIGHTON R BURNS 258 GENESEE ST Utica, NY 13502-4635
INTERNATIONAL INC RONALD B PRUITT 5725 LIBERTY CROSSING DR Indianapolis, IN 46254-1114
H ROBERT CHRISTOPHER IMPRESARIO 1 MALIBU CT Towson, MD 21204-2047
GERALD PUTMAN 1 MARLAYNE DR Johnson City, NY 13790-5031
JOHN C PITTMAN 1001 NOR BATH BLVD Northampton, PA 18067-8909
JAMES L BELEW IMPRESARIO 1004 VILLAGE DR Pittsburg, KS 66762-3551
MORRIS W HICKMAN TREAS 1011 ELM HILL PIKE Nashville, TN 37210-3503
JOHN J MERRITT 10327 EDENDALE LN Cantonment, FL 32533-2909
VERNON D STEPHENS TREAS 104 GULINO AVE Camillus, NY 13031-2123
H PAUL CHURCHWELL IMPRESARIO 104 HOMBRE CIR Panama City Beach, FL 32407-2469
JAMES P VERDI 10513 SEVILLA DR APT 201 Fort Myers, FL 33913-7027
WILLIAM M CAMPBELL9814 S ARMSTRONG PL Terre Haute, IN 47802-9779
BRUCE M HOMA BALBOA PANAMA, 00000-0000
CHARLES R CAIN M DPO BOX 140265 Dallas, TX 75214-0265
DR THOMAS D PRYSE IMPRESARIO PO BOX 2468 Knoxville, TN 37901-2468
GLENN E GRIMES PO BOX 2677 Little Rock, AR 72203-2677
R A WEESE PO BOX 278 Sand Springs, OK 74063-0278
NELSON J MURRAY PO BOX 359 Hampton, NH 03843-0359
DAVID W GOODWIN PO BOX 387 Angola, IN 46703-0387
DON LINKPO BOX 396 Genesee, MI 48437-0396
All copies of material reprinted or duplicated from by Sandy Frost must include the following credit line: From http://sandyfrost.newsvine.com/ Copyright © 2008 by Sandy Frost. Used by permission.