THE NORTH AMERICAN UNION


U.S., Mexican and Canadian Leaders Caught Lying About the Super Highway
YouTube, Added Nov 30, 2007

George Bush
he Province of Manitoba, the city of Winnipeg as well as the Winnipeg Airport Authority are members of the North American SuperCorridor Coalition (NASCO), a "non-profit organization dedicated to developing a multi-modal transportation corridor within the continent." (www.nascocorridor.com)
They have been working on this project for over 13 years.
Three months prior to the Province of Manitoba Throne Speech, the leaders of Canada, U.S. and Mexico, categorically deny its' existence.
Our leaders are lying to us and need to be held accountable for these treasonous acts!

4 min 50 sec

---
Wes Penre is the owner of the domain Illuminati News and the publisher of the same. Please also check out his MySpace website: http://www.myspace.com/wespenre.
---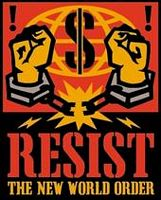 ---
Source: YouTube

---
This page may contain copyrighted material, the use of which has not always been specifically authorized by the copyright owner. I am making such material available in my efforts to advance understanding of environmental, political, human rights, economic, democracy, scientific, and social justice issues, etc. I believe this constitutes a 'fair use' of any such copyrighted material as provided for in section 107 of the US Copyright Law. In accordance with Title 17 U.S.C. Section 107, the material on this site is distributed without profit to those who have expressed a prior interest in receiving the included information for research and educational purposes.

---
---
Design downloaded from FreeWebTemplates.com
Free web design, web templates, web layouts, and website resources!
---