his video highlights a very serious concern which none of our media is looking into. The Amero is being looked at as the defacto currency of the North American Community (or Union).
"This brief news interview confirms the AMERO is on the way and the US and Canadian Dollar and the Peso will soon be history. "The Canadians are upset, and besides the Texans, most Americans have their head in the sand on this one". I would imagine the Mexicans have no say in the matter if they even have a clue (Govt control and communication difficulty).
Watch here:

[2 min 15 sec]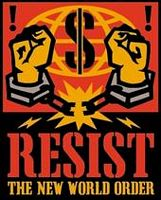 ---
Read more:
The Economics and Politics of a North American Monetary Union
Building a North American Community (Council on Foreign Relations) Saved version here.
Toward a North American Community: Lessons from the Old World for the New