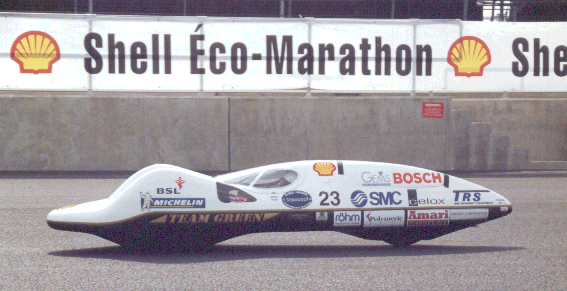 L
ONDON (AFP) - A British inventor unveiled a car he claims is the world's most fuel efficient -- capable of doing 8,000 miles (12,875 km) to the gallon (4.5 litres).
Andy Green, 45, spent just 2,000 pounds (2,925 euros or 3,732 US dollars) over two years creating the three-wheeled contraption in his spare time.
The car, named "TeamGreen," is 3.1 metres (10 feet 2 inches) long and a mere 0.6 metres (2 feet) wide, weighing just 30 kilograms (four stone).
"It's a labour of love," said Green, a technician in the mechanical engineering department of Bath University, south-west England.
"I think the car is important because it is a reminder to us all that the way to achieve fuel-savings is to drive lighter cars -- it's the weight of this car that is the main reason for its fuel-efficiency," he said.
Green's car is powered by a single cylinder four-stroke engine with a capacity of just 35 cc.
It will be the only British entry in a global competition in France later this month to decide the world's most fuel-economic car.
The winner of the Shell Eco-Marathon championships will be the car that runs the longest on an average speed of 30 kilometres per hour (18 miles per hour).
Two women, chosen for their slight frames, have been selected to drive the Briton's invention for the three-day event.
Green is already a seasoned inventor of environmentally friendly motors, of which "TeamGreen" is his fourth.
He holds the British record for fuel-efficiency, having achieved 6,603 miles to the gallon in one of his previous cars.