Last Updated:
Friday, July 04, 2008 11:41:54 AM
Wednesday, December 06, 2006
Illuminati Shuts Down Insider's Web Site To Protect New World Order Secrets
by Greg Szymanski, Dec 6, 2006
Last Updated: Friday, July 04, 2008 11:41:54 AM

High Level Illuminati whistleblower reopens web site in Italy. Leo Zagami says his free speech rights were violated and he is already being harassed in Italy only one day after opening his controversial insider web site exposing Vatican and Masonic corruption leading all the way to the White House.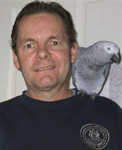 Greg Szymanski
he fascist Vatican, European Union and U.S. government powers are clamping down on free speech as former Illuminati insider Leo Zagami's web site has been shut down after only two months of trying to tell the inside story of how the New World Order really operates.
Zagami was notified Monday by Anthony Casalena of Squarespace, Inc., the company hosting Illuminati Confessions, several complaints had recently been filed due to sensitive content and personal information accusing people of being Satanists.

Leo Zagami
The site was subsequently shutdown, but friends of Zagami saved much of the content, transferring it immediately to an Italian web host. Zagami returned online Tuesday afternoon at
www.illuminaticonfessions.webfriend.it
.
Here is the email by Casalena that caused Zagami's cite to be shut down. Zagami claims high level Illuminati pressure from Norway and other parts of Europe and America who want their evil secrets kept secret caused a clamp down on his free speech rights. Further, Zagami's site was becoming extremely popular in America, as a refreshing outlet to people starved for the truth by the corrupt U.S. controlled media.
Here is the email from his former web host:

Hi there,

We've received a number of complaints related to the content on your Squarespace account -- which appears to contain a large amount of controversial content.

While we don't restrict the content of sites based on our member's opinions, we do prohibit the publishing of other individual's personal information without their consent -- especially in relation to statements which may harm an individual.

For example, in: http://www.illuminaticonfessions.squarespace.com/journal/2006/12/1/the-eternal-lie-and-the-so-called-oslo-eternal-peace-flame.html You state: "THE PHONE NUMBER OF JOHN FAERSETH IS +47 98808387"

And it appears you're referring to this individual as a "satanist", etc.

Could you please remove his phone number immediately -- and additionally -- we'll further request the removal of content that personally attacks various individuals. While we're not taking any sides here, this sort of content isn't the sort of thing we allow.

Please elaborate on this matter when you can. Thanks.
Before moving to a new Italian web host, Zagami responded:

Please re-open again my site as you are violating the contract you have with me and you are supporting openly satanism and the NEW WORLD ORDER BY DOING THIS. It's not a good idea, I can take away the number DEAR ANTONY of the Secretary of the ORDO TEMPLI ORIENTIS, John Faerseth, but you cant destroy 2 months of my work!

THERE are 200 CHAPTERS OF MY FUTURE BOOK ON YOUR SITE, I am going public to the press about it and will ruin the image of SQUARE SPACE AROUND THE WORLD. If you act of behalf of NWO criminals who want my site to be conveniently eliminated. Go and Google on my name (LEO ZAGAMI) and you will see this is not a game and not a joke if you will act this way.

The guy you are protecting (John Faerseth) had started posting the phone numbers and address of me and my family members on the comments of my site so I reacted by EXPOSING THEIR OWN NUMBERS to get them to leave me and my family alone, but we can go in front of a court of law dear Anthony no problem and I will show you I'm not taking this injustice lightly. Tomorrow on US Radio and the MEDIA I will announce publicly what you did if don't immediately put back on the web site IMMEDIATELY.

IT'S 2 MONTHS OF WORK ON IT BY AN HONEST PERSON WHO IS FIGHTING AGAINST CORRUPTION AND DISONESTY IN HIGH PLACES DONT EVER FORGET THAT ,I HAVE ALOT OF ENEMIES. YOU MIGHT NOT HAVE KNOWN WHAT THEY DID TO ME IN THE PREVIOUS DAYS AND MY REACTION MIGHT HAVE NOT THE RIGHT ONE BUT PLEASE DONT ACT THIS WAY IS A BIG

DISAPOINTMENT AND YOU ALSO OWN ME THE MONEY I HAVE GIVEN YOU.

Regards Leo Lyon Zagami
From Norway today, Zagami added that he is also "getting heat" from the powers that be in Italy, saying "They are already trying to censor me in Italy and we seem to be the most dangerous web site on the planet. This is serious stuff, but my friends in Italy are going to resist in the name of anti-fascism."
Zagami's friends put this note about his background for people unfamiliar with his story:

Background: Leo Lyon Zagami was, until recently, a high level member of the Italian Illuminati, a 33rd degree freemason, a true insider and a high-member of the infamous Freemasonic P2 Lodge. He was the "prince", prepared to take over after the older Illuminati "king", Licio Gelli. He is of Illuminati aristocrat bloodline and therefore involved in the Illuminati Order since childhood.

However, Leo decided he'd had enough of all the evil he was exposed to, and a part of, and the horrifying Satanic, black magic rituals, mind control and torture that was going on inside the lodges, behind closed doors. So he left everything and fled to Norway, where he is currently residing. Since he left, he's been harassed and tortured and had his life threatened.

He realized that the only way to hopefully stay alive is to expose to the world what he knows and make himself known. History shows that this is one of the best ways to survive, although nothing is for certain. Leo quickly started this website, Illuminati Confessions, where he reveals the secrets to the world, one by one. I strongly advise you to check it out and download it to your computer, in case they decide to silence him for good, and this website will be shut down. There is a lot of extremely important information here, and much of it can't be found anywhere else. Leo has also been a guest several times at Greg Szymanski's radio show.
---
Greg also has his own daily show on the Genesis Communications Network. Go to www.gcnlive.com Greg Szymanski is an independent investigative journalist and his articles can been seen at www.LewisNews.com. He also writes for his own site www.arcticbeacon.com
Listen to my Radio Broadcast live Monday night at 8pm Pacific time on LewisNews, returning Jan. 1 2006 Radio http://webs.lewisnews.com/radio/index.htm. Greg is also regular on Rense.com the first Thursday of every month at 9-10 pm pacific time.
---
Source: http://www.arcticbeacon.com/6-Dec-2006.html

---
This page may contain copyrighted material, the use of which has not always been specifically authorized by the copyright owner. I am making such material available in my efforts to advance understanding of environmental, political, human rights, economic, democracy, scientific, and social justice issues, etc. I believe this constitutes a 'fair use' of any such copyrighted material as provided for in section 107 of the US Copyright Law. In accordance with Title 17 U.S.C. Section 107, the material on this site is distributed without profit to those who have expressed a prior interest in receiving the included information for research and educational purposes.

---
- - - - - - - -
Disclaimer
- - - - - - - -